Randy Bachman has confirmed release plans for his new studio album, By George – By Bachman, a respectful and personal testimonial to the late George Harrison's finest work. The album will be released digitally on March 2, 2018 and on CD on March 16, 2018 by UMe, and two of its tracks are available immediately via digital album preorder: "Here Comes the Sun" and "While My Guitar Gently Weeps."
Not your typical tribute album, By George – By Bachman is a singular "Harrison by Bachman" concept, with Bachman's distinctively personal stamp and style placed on songs spanning Harrison's storied career as both a member of The Beatles and as a solo artist. "On Jukebox, the covers album I did with Burton Cummings back in 2007, I took 'I'm Happy Just to Dance With You' — which wasn't written by George but written for him to sing — and put a whole new groove on it," Bachman explains. "People already knew the lyrics, so I put it into a new musical context, and it worked. For this album, I figured I would take George's songs and give them new grooves. I wanted the tempos and arrangements to be different but still recognizable by the lyrics. I took the major keys and turned them into minors. It was a whole new interpretation of a familiar song. I was quite excited about the prospect of re-imagining George Harrison's songs."
Bachman will kick off celebrations for By George – By Bachman with a concert at New York's B.B. King Blues Club & Grill on February 24, one day before what would have been Harrison's 75th birthday. Bachman and his band then return to Canada for a month of concerts, with more dates to be announced for spring and summer. For the complete list of Bachman's confirmed 2018 tour dates, visit RandyBachman.com.
Bachman began work on the By George – By Bachman project in March 2017, enlisting the talents of his band of nearly a decade: Marc LaFrance as co-producer/drummer, Mick Dalla-Vee on bass and keys, and Brent Knudsen on additional guitars. Bachman and his band developed a process for creating demos for such time-tested material, reflecting the spirit of the sources with fresh perspectives.
Over weeks of back-and-forth, the songs took shape, and some of the demo recordings even made it to the finished record. "While My Guitar Gently Weeps," the album's lead radio single, was one of the tracks that came together very quickly. Bachman and his band took a tougher-flavored edge to the track, adding hard-driving drums, thumping bass, raging guitars, and lots of vocals. Later, they sent the song to blues guitarist Walter Trout, who added some signature, screaming guitar solos of his own.
In May 2017, recording began at Armoury Studios in Vancouver, where artists such as AC/DC, Nickelback, The Cranberries, INXS, Seal, Diana Krall, Drake, and Bruno Mars have all recorded. LaFrance recalls the experience: "Once we started digging into the recording of the album, it almost became somewhat of a healing and liberating experience," he observes. "Music can really take you to places you can't imagine, especially while creating it. Sitting in the control room while Randy is ripping out a guitar solo [and] grabbing notes out of thin air is good for the soul."
The band lived with those first recordings for some months before returning to the studio in September 2017 to finish the album, this time at Calgary's Studio Bell – a facility within Canada's National Music Centre, where Bachman's '59 Les Paul guitar (upon which he wrote and recorded "American Woman" with The Guess Who) is on display as part of Canada's Music Hall of Fame. The studio houses all variety of rare and vintage gear, from The Rolling Stones' mobile recording studio to a historic Trident (Triad) A Range Console. Using these tools connected Bachman to his previous recording lives, as well as being able to channel elements of the past to weave through the present.
By George – By Bachman opens and closes with "Between Two Mountains," a Bachman original written to tie the various elements together that comprise the album's concept. In this song, Harrison's position amidst the musical-giant stature of fellow Beatles John Lennon and Paul McCartney is acknowledged. "George's light shone through what could have been a shadow between such mountainous forces as John and Paul," believes Bachman. "Love is forever – and George made certain that paramount sentiment endured throughout his work and life. His music and his example mean the world to me, and I hope I have honored that in a way that will resonate with people who, like me, are his fans and admirers."
There's also a little something extra for George Harrison aficionados. "Throughout the album, I put in little signature licks that are associated with George's songs,like the slide part from 'My Sweet Lord' or the opening chord from 'A Hard Day's Night,' for the fans to notice" reveals Bachman. "Kind of like Easter eggs."
Bachman stands in rarified air as a member of a very exclusive handful of artists who have topped the charts in two different bands: "American Woman" with The Guess Who (in 1970), and "You Ain't Seen Nothing Yet" (in 1974) as leader and singer with Bachman-Turner Overdrive. In a global career spanning more than five decades, Bachman has earned 120 platinum, gold, and silver records, and, as host of the top-rated CBC and SiriusXM radio series Randy Bachman's Vinyl Tap, his listeners number in the millions.
BACHMAN SOCIALS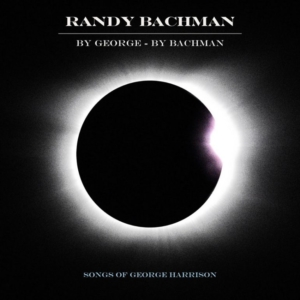 RANDY  BACHMAN: BY GEORGE – BY BACHMAN
TRACK LISTING
Between Two Mountains
If I Needed Someone
You Like Me Too Much
While My Guitar Gently Weeps
Handle With Care
Taxman
I Need You
Something
Think For Yourself
Here Comes The Sun
Don't Bother Me
Give Me Love (Give Me Peace On Earth)
Between Two Mountains Reprise